EBRO INDIA'S HANDS FOR HUMANITY, A CAMPAIGN TO PROVIDE FOOD AID TO UNDERPRIVILEGED FAMILIES
Ebro India, through its Tilda and Panzani brands and with the financial support of the Ebro Foundation, has sponsored the "Hands for Humanity" campaign, which is aimed at donating food to the populations most affected by the pandemic.
OurRadio station 92.7 Big FM in New Delhi and the local police collaborated on this imitative. For 20 days, the radio station ran advertising spots 13 times a day inviting the RWAs (resident welfare associations in India) to participate through their thousands of partners in the donation of food for the campaign.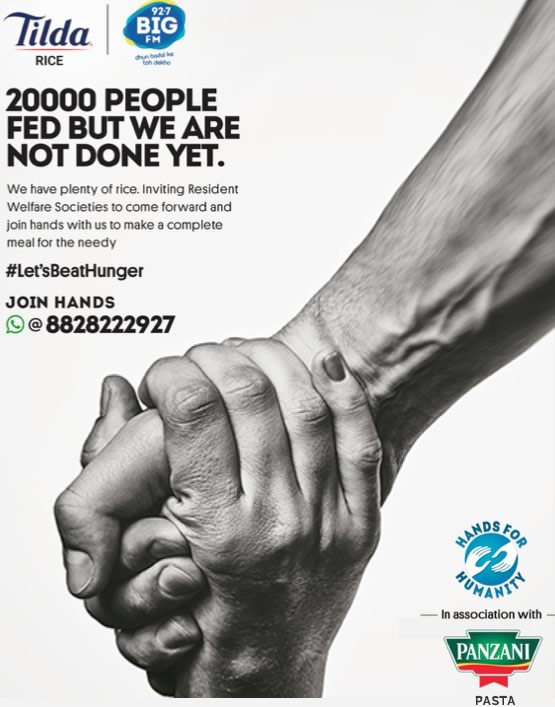 The campaign was a resounding success and even ran ten days longer than originally planned. The 30 residential associations that participated collected 2,000 kilos of flour, oil, spices and other foodstuffs to which our brand, Tilda, added 2,500 kilos of rice. The donations were then packaged into 5-kg food kits and sent to thousands of needy families in the area. The police monitored the delivery of the aid to ensure compliance with safety, hygiene and social distancing standards for the thousands of people who came to the distribution points.
Ebro India has played a very active role throughout the pandemic. Internally, it has ensured the protection and welfare of all employees, reinforcing its commitment to temporary employees by continuing to pay their wages even when they were unable to work because of confinement. Externally, in addition to the "Hands for Humanity" campaign, our subsidiary has donated food to more than 20,000 families since the beginning of the crisis.
We congratulate the entire team for launching these kinds of initiatives, ones that make a difference.